BIG PICTURE
---
Social media has your students' attention.
Give yourself the tools to engage with your students and create authentic connections that help deliver desired outcomes.
Humanized Learning
Create a friendlier virtual experience where students can get to know you and establish a sense of trust.
Hybrid Modalities
ActiveClass' social-media inspired tools help support all modalities; in-person, online, and fully asynchronous.
Inclusive Instruction
Easily cultivate an environment where ALL students are seen and heard, and feel a sense of belonging and community.
Authentically Assess
An intuitive environment where students can showcase knowledge and understanding without a quiz.
Easily connect with students - formally or informally.
"In humanized online courses, instructor-student relationships are the connective tissue between students, engagement, and rigor."
Pacansky-Brock, Smedshammer, Vincent-Layton 2020
REGULAR ENGAGEMENT
---
Keep in touch.
Start conversations and keep connections going and growing with a familiar, intuitive social feed for the classroom—including announcements, questions, polls, contextual posts, reactions, comment threads, direct messages, and more.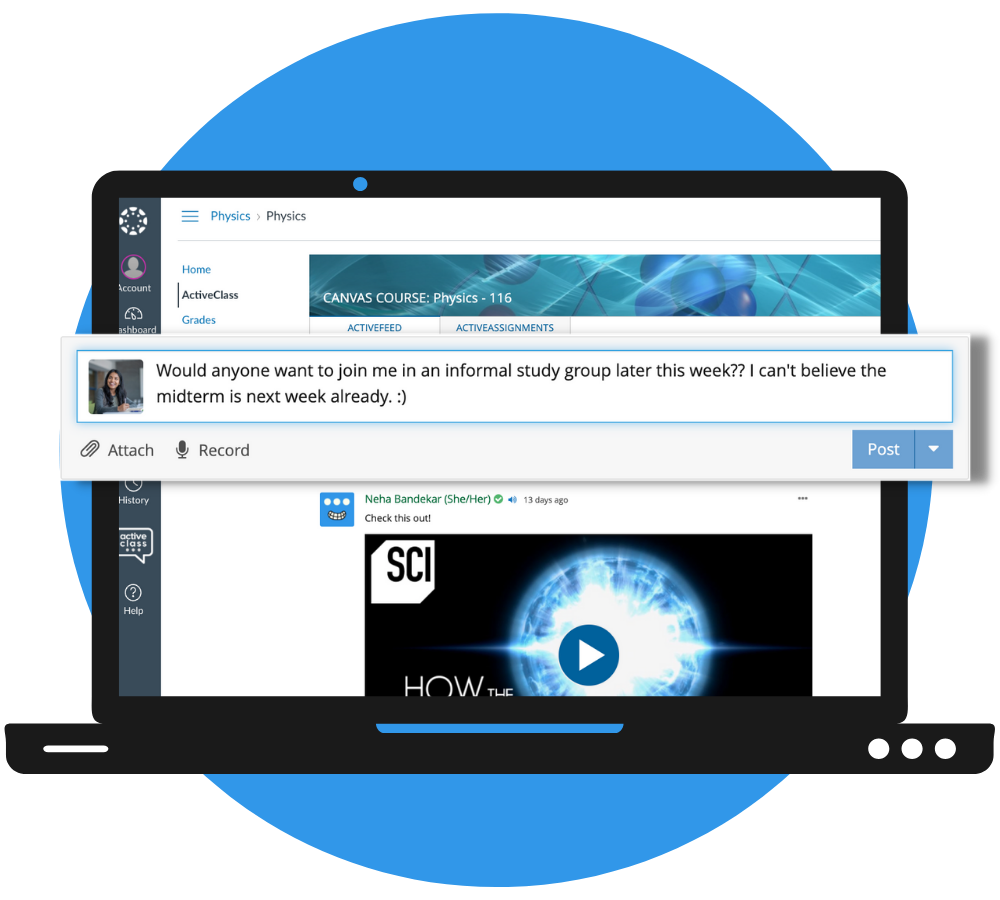 INCLUSIVE ENVIRONMENT
---
Build community.
Create easy-breezy, welcoming spaces for entire classes, groups, or individuals. Course-relevant posts, comments, recordings, and live video calls help build community, regardless of where or when students are learning.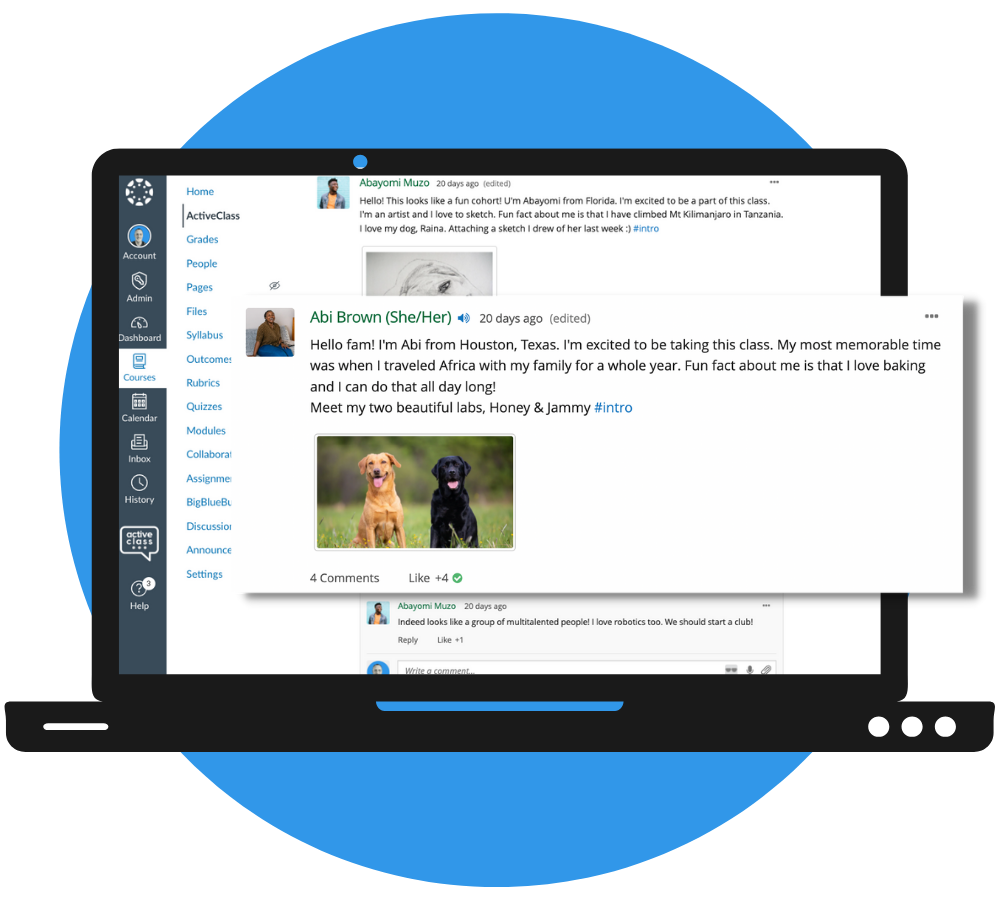 HIGHLY FLEXIBLE
---
Create and share content.
Easily create, share, upload, or embed content of all types to spark discussion, deepen understanding of course concepts, and promote a proactive approach to learning – whether synchronous or asynchronous.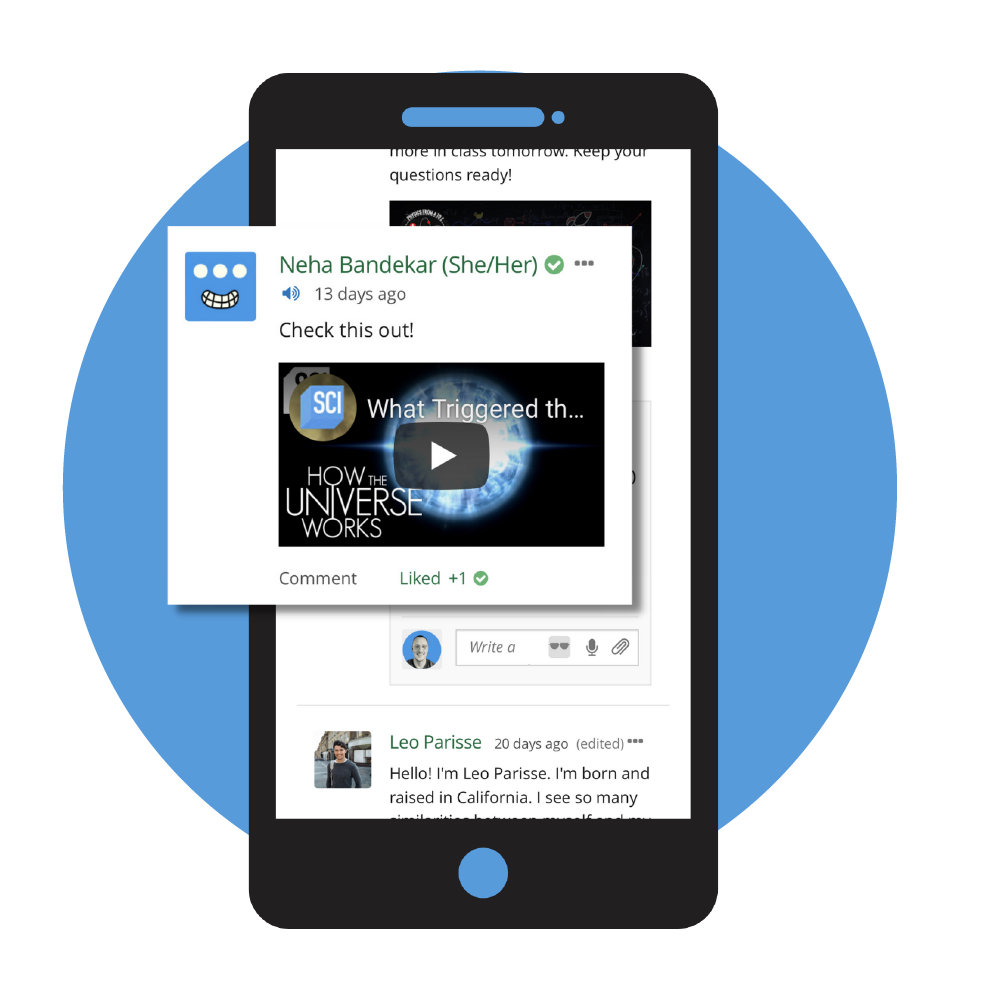 MODERN DISCUSSIONS
---
Grade discussions (or don't).
Aggregate, anonymize, and grade each student's activity around certain content or discussion topics, and let other discussions go ungraded. See at-a-glance views of engagement rates and get insights into the most engaging posts.