Delgado Community College Selects ActiveClass to Help Drive Improved Student Engagement
Delgado, a top 50 Community College in the United States, has chosen ActiveClass to help enable more modern and flexible social-like discussions to take place for all modes of learning. ActiveClass, which resides in the LMS, supports instructor efforts to further provide flexible learning opportunities to their students.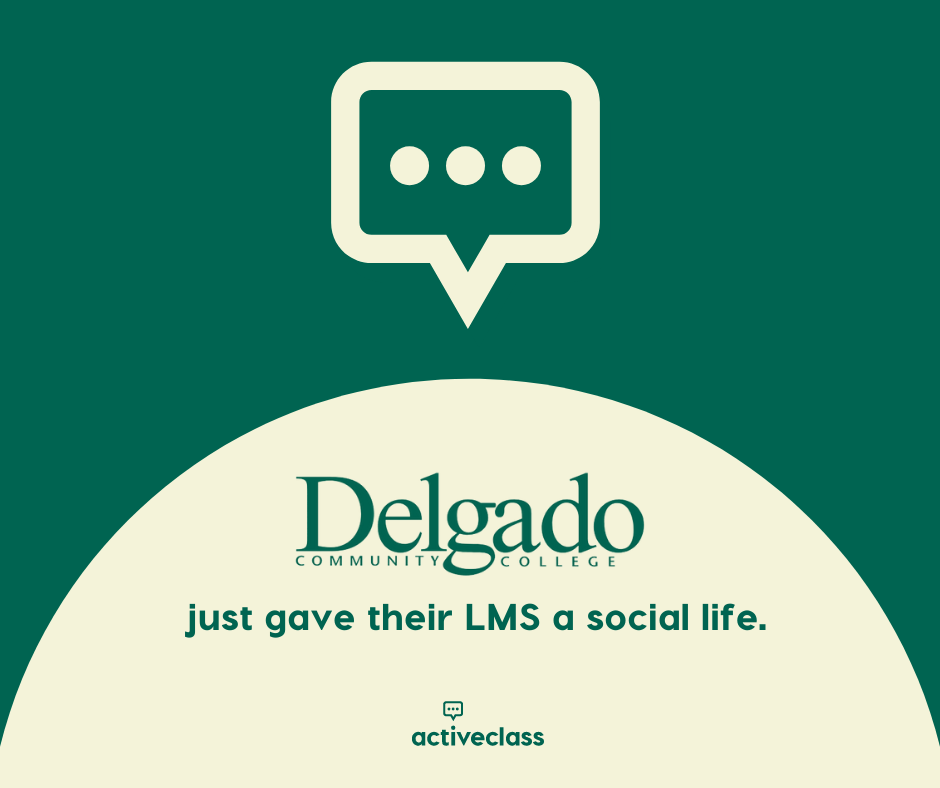 New Orleans, LA; Delgado Community College offers associate level courses and degree programs for close to 19,000 students annually. It was recently named a top 50 community college in the nation by Intelligent.com.
With a mission to "provide a learning-centered environment through face-to-face and distance education to prepare students from diverse backgrounds", it's imperative that Delgado offers the best and most accessible ways for its students to engage in the classroom and take courses, no matter the mode of learning.
Amanda Rosenzweig, Delgado's LMS Administrator and eLearning Trainer, as well as Departmental Chair and Professor of Biology, was on the lookout for ways to improve and better meet the aforementioned mission of the institution.
Rosenzweig said, "While I am new to ActiveClass, I have seen great impact on the students at the school. ActiveClass provides engagement in a familiar format to students. The social media feel allows students and the teachers to contribute content and create communities."
ActiveClass' intuitive approach to engaging students through social media-like tools right inside the LMS is helping students across the country feel more connected by delivering key functionality for all modes of learning that makes sense to the students and actually gets used and adopted by the instructors.
In addition to the social nature of ActiveClass, Rosenzweig also stated that "The instructor can facilitate and mediate learning in an environment that promotes learning through the student's immersion. Additionally, the discussion board assignment capabilities allow ease of grading with standards such as word count, comment count, as well as plagiarism detection."
CEO and Co-founder of ActiveClass, Nate Hurst stated "We are thrilled to be working with Amanda and the entire Delgado community. As we continue to build and invest in our product, folks like Amanda are instrumental in helping us shape what student engagement can and will look like in the near future."
About Delgado Community College
Delgado Community College celebrates 100 years of service to the New Orleans region in 2021. The oldest and largest community college in Louisiana, Delgado provides instruction online and at seven locations. Delgado offers students the most comprehensive array of education and training services available in the New Orleans region. Additionally, Delgado has articulation agreements with most of the state's four-year colleges and universities that allow students to transfer their Delgado credits to bachelor's degree programs. As well as offering degrees and transferable college credits, Delgado provides diplomas and certificates in many professional and technical areas. Workforce development is a priority at Delgado, hence the college's well-known motto: "Education that works!"www.dcc.edu
About ActiveClass
ActiveClass is an edtech company offering simple social experiences from within learning management systems. Featuring a modern, social-media-inspired UI, ActiveClass encourages conversation, supports various learning models, facilitates diversity, equity, and inclusion initiatives, and helps address institutions' top engagement and retention challenges. To learn more about ActiveClass or get a demo, visit www.activeclass.com.
Contact: Nate Hurst, nate@activeclass.com
###